25 min read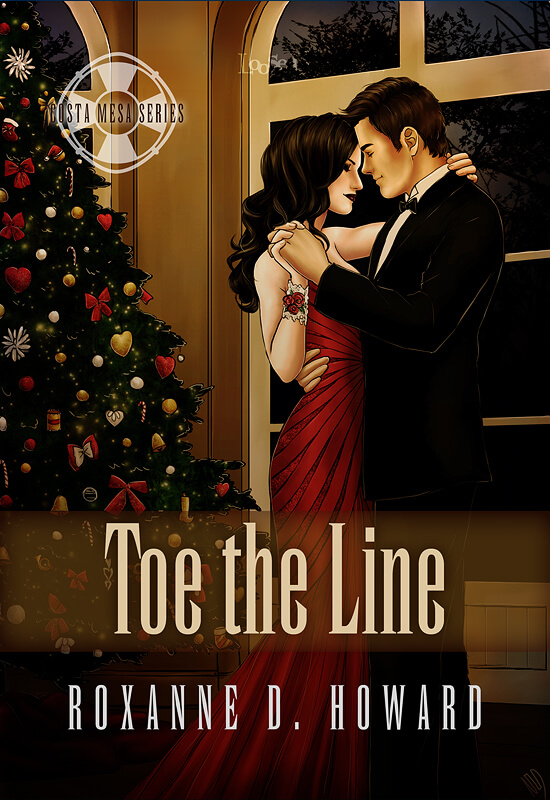 Cover Art by Natalie Duarte, Design by April Martinez
Description:
After two months apart from Jack and working in desolate, war-torn Syria, Piper is on her way home to California for Hanukkah. The tides have turned dramatically, and she is now an established journalist with Channel Four News. Though she's proud of where she's at with her career, her heart aches for the painful way she left things with Jack.
Jack is determined to make things right with Piper, no matter what. When he receives a cash settlement from Business Buster, he uses his newfound wealth to whisk her away on his new yacht for a romantic getaway to Catalina Island. In no time at all, the two lovers reignite the fiery blaze between them, and their steamy passion rekindles out on the open ocean. But when a dangerous, hidden stowaway hijacks the yacht and holds them both captive, Piper and Jack find themselves at his mercy. With nowhere to run, they must work together if they want to escape alive.
This holiday season, it's time to Toe the Line.
Excerpt Chapter:
Chapter One
Jack Spencer reached up to place the starfish on the top of the Christmas tree. The theme this year was nautical, with dolphins, whales, fish ornaments, and sparkly green seaweed in place of tinsel. The news filtered through in the background from the flat-screen TV. He stood back to assess his handiwork. "I know it's…different, but hell, normal is boring. I get that I'm not going to impress you, but since it's Christmas and all, you want to weigh in and give an honest opinion here?" He turned around. Finn, his golden retriever, tilted his furry head to the side and wagged his tail.
"Works for me." Jack bent down and retrieved the extra seaweed from the floor, then paused as Hakeem Patel, the TV news anchor, caught his attention.
"Good evening. While most of us have started to get our cookies baked, put our presents beneath the trees, and stuffed those stockings, children in diverse parts of the world experience a different holiday season altogether. Now to our field anchor in Syria, Piper Goldhirsch, with a special report."
Jack catapulted over the sofa and crash-landed on a cushion. Finn joined him. He scratched behind the dog's ear, distracted as his attention zeroed in on the screen. A light snowfall drifted down behind Piper, whose generous dark curls escaped from beneath her soft cream-colored knit cap. She wore a black coat, and her scarf and gloves matched her hat. She put a hand to her earpiece and waited. They had a delay each time she did her broadcast, but Jack loved it because it meant he got to stare at her a little longer before she spoke. She looked like an angel. The edge of the shark's-tooth necklace he'd given her peeked out the top of the scarf. The corner of his mouth lifted.
"Hi, Hakeem. I'm here in Damascus, where the Red Cross relief-aid holiday celebration is held. Here in war-torn Syria, where war has gone on for over half a decade, everyone you meet will have known someone who has died in the past few years. More than a quarter of a million people have died since the war began, leaving many children without families. The ceasefire has lasted since March, but people here pray for a more permanent solution. Each one of these children has a story to tell."
The camera zoomed out to show her surrounded by many Syrian children with tattered clothes and mismatched winter apparel. A little girl he'd seen with Piper before, with large haunted eyes and long black braids, held on to Piper's free hand. Many of the other children just looked wiped. She looked down at the girl, who clutched her hand.
"This is Amira, and a year ago, she was found beneath some debris east of the capital. She lost her whole family."
Jack interlaced his fingers and leaned forward as Piper recounted Amira's story. Amira didn't seem to understand a word Piper said, but she remained glued to Piper's side. She smiled up at Piper and appeared to take genuine comfort in her presence. A few photos of Amira with her family, and then photos of rubble and her decimated home, came on the screen.
"This is the time of year to think of others. No matter one's nationality, race, sexual persuasion, or religion, we can all feel for this special little girl and the orphaned children of Syria. If you can, and if you are able, please give a little this holiday season to the Red Cross relief. It's time to stop the fighting and to restore hope in their hearts. Please donate. Thank you."
A number appeared on-screen to donate to the Red Cross. Jack picked up his phone and dialed. He was so proud of Piper. She'd made the deliberate decision to end her sleazy tabloid job when she'd realized they'd sold him out, and though he'd parted on bad terms with her in the fury and confusion of his anger, the drastic change she'd made in her life moved him. She was the type of woman his father would say had gumption, a rare quality. The Red Cross put him on hold, and he watched the rest of Piper's segment as Christmas jingles played in the background on the phone.
A split screen showed Hakeem in the LA studio.
"So Piper, this is your last broadcast in Syria, right?"
"It sure is, Hakeem. Two months have gone by way too quickly." She hugged Amira to her. "I've met some pretty incredible people over here."
"I'll bet you have. How does it feel to know you'll be home after what you've seen and written about over there?"
Piper brushed a bit of snow-sprinkled hair out of her face and took a deep breath. "Surreal. Syria has taught me a lot. I'm so grateful to be able to come back to the US for the Hanukkah season."
"Well, we can't wait to have you back. Travel home safe, Piper."
"Thanks, guys."
Hakeem turned to a different camera. "Next up, the Orange County jailbreak. How did convicted murderer Diego Archuleta escape, and where is he hiding? More to come after this break."
They cut Piper's transmission, and Finn whined when Piper was no longer on the screen. Jack met his doggie glare. "What?"
Finn tilted his head as if to say you know what.
"Don't look at me like that, okay? I sent her an e-mail, but I never heard anything back. What was I supposed to say? 'Hey, Piper, remember when I tore you a new one because I thought you sold me out? My bad.' I'll talk to her and see her when she gets home. I just…didn't think she'd want me to continue to try to contact her after what a bastard I was. But we'll see her again, boy. I've got a plan. We're going to treat her like a queen and make things right."
Finn let out a sigh, lay down on the sofa, and rested his head over his paws. Jack shook his head, stayed on the line, and donated a thousand dollars to Syrian relief aid.
* * * *
Piper sat down in the nearly deserted chow hall and rubbed her hands over a table tea light for warmth. Once her hands were sufficiently warm, she shrugged her coat off and opened up her laptop. A tray of untouched food sat beside it. She ignored it and logged into Skype. She looked through her contacts and clicked on Mom. Her mother was already online.
The green light on her laptop camera lit up, and her mother's face came into view. Halina Goldhirsch had skin as smooth and pale as ivory. Piper had inherited both her looks and tall, voluptuous figure. Her mother's large, brown eyes blinked. Curly dark hair fell past her shoulders, thick and glossy with one or two gray streaks.
"Piper? Honey, can you see me?"
"Yeah, I can see you, Mom. You look great."
"There you are. I can see you too. Oy vey, I don't think I'll ever get used to Skype. The emoticons have emoticons. Where are you? It looks different."
"I'm at the chow hall at Camp Damascus. It's a military base."
"What about your hotel?"
"There was a rumor of a possible attack, so they moved us here to keep us safe."
Her mother put her fingers to her lips, but Piper could still spot the edges of her frown.
"I'm fine, Mom. Really."
"Hmm. I'll feel better when I know you're back in LA. When are you leaving?"
"Soon. There's been some snow, so they might have to delay the flight if it gets any worse, but I'll be out before the night's over. I'm all packed."
"Well, make sure you let me know when you're home safe. It's bad enough you're about to spend Hanukkah without us this year."
"I know, Mom. I'm sorry. You know how bad I wanted to come back to New York for it."
"Well, never mind. You'll be with us in spirit, sweetheart. You've had a lot on your plate the past two months, and you need a good rest. I'm lighting the family menorah in two days. We've sent your gifts through the mail to your condo."
"Thanks, Mom."
"Are you sure you're fine, sweetheart? You haven't been the same since you took this assignment. I worry about you."
Piper glanced down. She hadn't told her mom about her failed relationship with Jack, though her mother was aware of her reasons for calling it quits with her last job. She was too ashamed of how he'd been exploited, and right after they'd had a passionate day and night together too. "Don't worry about me. I'm okay."
"Honey, it's my job as your mother. I worried about you when you were a tiny bubula, and I'll worry about you when you're as old and wrinkled as Yetta. She sends her love, by the way."
"How's she doing?"
"She's getting older. Speaks more in Yiddish than English these days. She asked about you the other night."
"Well, give her a kiss from me, and tell her I hope she's well."
"I will. I'll come and visit you after New Year's in LA. Are you still scheduled to host the New Year's Eve special?"
"Yeah. There will be a countdown and fireworks celebration. I'll broadcast up until midnight. I hope you know I want to be there with you guys for Hanukkah, but it's too much to get my bearings and then hop planes back and forth."
Halina waved her hand flippantly. "Don't give it a second thought. I'm proud of you. Yetta's proud of you. The way you stood up to that schmuck like you did. You made me proud, baby. You take care of yourself, and travel back safe. And call me. Oy, what's a poor mother to do when she gets to speak to her only child just once or twice a week?"
Piper smiled. "I will, Mom. I promise. I love you."
"Love you more, kiddo."
* * * *
When Piper departed the Damascus Airport on her flight home, the falling snow had been replaced with clear dark-blue skies. Piper stared out the airplane window as she thought about how the past two months had changed her life and her perspective on the world. She fingered the delicate shark's-tooth necklace nestled between two freshwater pearls close to her breasts, a gift from Jack before their relationship went south. What would it be like to see him after all this time? Would he want to see her?
Hakeem had mentioned Jack showed up at the news station after she put out a broadcast and cleared his name. Things had happened so fast after her immediate hire at Channel Four, she hadn't even had time to say good-bye or work it out with him. In fact, the last time they spoke, he'd lambasted her, and she'd gone away in tears. Hakeem told her he'd given Jack her e-mail address, but she'd never heard from him. She even sent him an e-mail herself, but he never responded.
She'd kept tabs on him, though, out of blatant curiosity. He'd received some kind of out-of-court, under-the-table cash settlement from her previous show, Business Buster, and word was his whale-watching business had tripled, and he was now quite wealthy. Whatever he'd gone to the news station to discuss with her must not have been that important, and she didn't blame him. If someone had railroaded her the way Jack had been by her sleazy ex-boss, she'd have a hell of a hard time forgiving them too. Still, the thought of Jack with her had comforted her at night. So what if she'd fantasized about him more than she ought to?
They'd had but a day and a night with each other—the most passionate, amazing sex of her life—and she'd realized she cared for Jack on a deeper level than she ever had before for any man. So when it all went south and Hakeem called with the chance to start afresh, to have a clean slate and escape the mess she was in, she'd accepted the offer. Piper traced the airplane window with her fingertip and watched the tiny lights twinkle below as they neared LAX airport in California. Could Jack ever forgive her? She longed to be with him more than ever after she'd witnessed the devastation in Syria and the amount of hostility people could harbor toward one another.
Deep down, she wanted to be held, to have him drive away the bad dreams and sleepless nights that had begun to plague her. She needed his touch.
Her plane touched down at half past nine after her long flight home. She was due to go to an awards brunch banquet the following morning, after which she would get a well-deserved week and a half off until her New Year's broadcast. She milled around in the airport luggage area as the baggage carousel rotated on its conveyor belt.
As she waited for her dark-blue suitcase to turn up, Jack's handsome face materialized into her mind. She understood why he'd never gotten in touch with her or responded to her e-mail, even if it hurt more than she cared to admit. She'd done her best to make amends, and she was at peace with that, at least. Things seemed to have turned out well for him, and it comforted her, despite the hole in her life she had from never receiving closure.
What irked her, though, was that before it all went down, they'd been on cloud nine with each other. She hadn't been on the prowl for love, but he'd sneaked his way right into her heart. But life had changed for both of them. For all she knew, he had another woman in his life now. She wouldn't begrudge him that.
Piper worried her bottom lip. Still, he'd come to Channel Four Studio. What had he been after?
She fetched her luggage and rolled it out to the airport shuttle service, which the news station had arranged for her. The view out the car window on her way back to her condo was the polar opposite of what she was used to. No snow was piled in the streets, no disheveled children were dressed in tattered clothes, no overturned cars or debris or signs of war. Just palm trees, well-lit roads, and clear-night weather in California.
Hanukkah was always an emotional time of year for anyone. This year especially, after meeting Jack and getting a taste of the passion they could have together, then losing it—it had made a huge impact on her life. Still, this was the time of year for family, reconciliation, miracles, and love. Maybe there was still a chance.
She thought of Amira, a little girl who'd captured her heart. Amira liked to draw and would often give Piper crayon pictures she'd drawn of happier thoughts with green grass, blue skies, trees, and stick-figure people. Amira had found a home before Piper left. A physician at the local hospital and his wife had adopted her, which was such a relief to Piper to know she'd be safe and loved.
Piper had never quite grasped how lucky she was to have been born in the United States. Her grandma Yetta didn't talk about the Holocaust very often. She'd always said she preferred to focus on the beautiful elements in life rather than the uglier times. But to know what life was like in a war zone now gave her a more profound respect than she'd ever had before for Yetta.
Piper's close friends, Stefan Delgado and his husband Lance, had kept an eye on her condo for her while she'd been overseas. When the shuttle dropped her off in front of the complex, she unlocked the front door and stepped inside for the first time in two months. It threw her off guard with how well kept it appeared. With a pang, she remembered the cleaning spree she'd gone on right around the time Jack had ripped into her. Afterward, she'd gone to the studio to tell the truth on air and then had come home and blitzed the hell out of the place to quell her shattered nerves.
She walked into the kitchen area, where Stefan and Lance had left a sticky note on the fridge: Stocked you up on a few essentials. Welcome back, P!
She smiled and shook her head. "You guys." She'd missed their zesty presence in her life. In the fridge was a gallon of cold milk, fresh fruit and vegetables, and kosher food. She retrieved a glass from the cupboard and poured some water.
Once the brunch was over tomorrow, she could relax and take some well-needed time to get her personal life sorted out. She slipped out of her shoes and changed into a soft lacy nightgown from her closet. It was the first sexy attire she'd worn since she left. She rubbed her favorite scented lotion into her hands and savored the sweet floral scent she'd missed. What would Jack say if she went to see him? It was the holiday season, after all. Even if he still resented her, perhaps they could at least mend fences?
One thing was certain, though—her heart needed to heal and move forward.
* * * *
Hakeem had mentioned in her initial interview over the phone that one perk to her job at Channel Four was the catering. As she'd missed out on it while over in Syria, she looked forward to seeing how good the food was. She and her taste buds weren't disappointed. Whether it was served in the studio or at special off-site locations, like this holiday awards-ceremony brunch, the food was high quality. Because of the diversified staff members, there was kosher food. She didn't always eat kosher, but she liked to honor her family's tradition and heritage as often as she could.
Piper sat down at a table with her fellow anchors, who greeted her with hugs and praise for her time in Syria. Hakeem sat next to her and introduced his wife, Nadia, a beautiful woman with wide, dark eyes. She wore a pretty hijab. Nadia had an earthy, warm kindness about her.
No sooner had she dug into her breakfast than they surprised her by calling her up to the podium. She wiped her lips with a napkin and adjusted her necklace.
"What is this?" she asked Hakeem.
He shrugged in his sage-like way, though his dark eyes sparkled as he and Nadia watched her stand. She walked to the podium, where Richard Johnson, the Channel Four news director, stood and beamed at her. She kept her head high, as her mom always told her.
Chin up, my girl. Always chin up.
She'd put on a pair of black pants and a white wraparound blouse with a nice Empire waist for the occasion. They presented her with a beautifully crafted glass award for Outstanding Accomplishment in Journalism. Her hands didn't shake when she took the award, but despite her confidence, tears welled up. A year ago, she would have considered this a pipe dream. Richard stood aside and indicated she should say a few words.
Piper took a deep breath and moved toward the microphone. She cleared her throat and looked up. "Thank you. I—"
The first person she saw when she looked up was Jack Spencer. He was leaning against the wall on the other side of the room wearing dark jeans, a dark-blue T-shirt, and a black sports jacket. Time froze, and so did she as she stared at him. His face beamed with pride, and it hit her right in the heart. Piper blinked, and a few tears escaped. Maybe he'd come to make amends?
She looked around at the audience of her peers, who appeared to notice the exchange. "My time in Syria taught me about what it means to be grateful for what we have here. Thank you so much for this award. I'm grateful to my fellow anchors, Hakeem Patel and Melinda Schaffer, who were my home front throughout the whole experience. This award means a lot to me, more than any of you could ever know. I hope our segments we did in Syria have stoked enough awareness about the crisis with the refugees. Not everyone will always agree about a decision, but when it involves children, I feel like we have an obligation to do our utmost to help. Thank you."
She stepped away to applause. But instead of going back to her table, she kept right on walking. Straight toward Jack.