6 min read
Ember Leigh is back on the blog today with a sizzling hot new romance release! Ember writes cutting edge erotic romance which packs an emotional punch. Check it out!
Not all sins lead to hell.
BLURB:
She picked the name Gen.
As a religious exile who fled her community only to land in LA, Genevieve couldn't be greener. Armed with a list of experiences she's eager to live, she's diving headfirst into the choppy waters of normal society. Then she meets Cobra. There's nothing normal about the resident gym bad boy who struts around like he could undress her with his eyes alone.
And he goes by Cobra.
Cobra knows better than to believe in blessings. Snagging this stable job at Holt Body Fitness is the only break of luck he's had since his life took a nosedive as a teen, but it's just a matter of time before this goes downhill too. Which is why when ultra-innocent Gen stumbles onto his bleak path, he's eager for the distraction provided by the oblivious bombshell. He can help her live her list—but only so far. Because Cobra's only good at being temporary.
They both have lives they left far behind them.
Setting three months to wade through Gen's list of sins, the two of them plunge headfirst into something equals parts sizzling and intense. As Cobra inches nearer to securing his permanent spot at the gym, he comes even closer to a scary new reality. One that might be too good to be true.  One that will force him to choose between the only family he's ever known, and the one thing he swore to never need: love.
Pre-order/Buy Link: https://www.amazon.com/dp/B07MW7QFNG or http://mybook.to/breaking-the-sinner
Add it to your TBR pile! https://www.goodreads.com/book/show/43603060-breaking-the-sinner
EXCERPT:
Gen settled into the leather chair, unable to look away from Cobra. When he handed her the drink, their fingers brushed. Her low belly cinched tight. A warning.
"Have you ever been on a date before?" she asked.
He shook his head. "Not really."
"Oh." She ran her finger over the white plastic lid of her coffee cup. "Well, why not? It's normal, right?"
He shrugged. "Maybe. Maybe not so normal if neither of us have done it."
"According to the movies I've been watching recently, we're supposed to kiss and fall in love after the date," she said matter-of-factly. The crazy coffee concoction steamed in her hands. Something about the heat made her bold. "But something will prevent us from being with each other, like a tornado or your sudden terminal illness."
A laugh burst out of him. "What's my illness?"
"Probably cancer, I hate to say it." She watched him for a second. "Like muscle cancer."
"Why muscle cancer?"
"Because you've got so much of it." She took a sip of her drink, but it scalded her lips. She inhaled sharply. "Oh fudge, this is like lava."
Cobra's eyes narrowed. His scrutiny left her on pins and needles. "You don't swear, do you?"
"I just did."
His cocked his head. "No, you said 'fudge.' That's not swearing."
She cleared her throat. Uh-oh. She'd been outed. "Well, you know what I'm trying to say."
"Fuck."
A shiver went up her spine. "Yeah."
"So say it."
She gave him a duh look. "Fine."
Silence stretched between them. His amused smile crept wider and wider. Her skin prickled.
"I don't feel like saying it right now."
He nodded, finally taking a sip of his coffee. "Okay." He looked at the coffee cup, then took another sip. "Fuck, this is good."
"Fuck right good." The words tumbled out of her. And then she realized they didn't make any sense. The look on Cobra's face hung somewhere between watching a comedy show and a train wreck.
She covered her face with her free hand. "Well, there, I said it."
Cobra snorted, leaning back in his chair. "That your first time?"
"No. But maybe my fifth." She tried to mimic his relaxed posture, but her muscles wouldn't loosen.
"You think swearing is evil or something?"
"No, not evil. Just…" New. Weird. Forbidden. "Not something I normally do."
"Like all the other stuff on your list." His umber gaze seared her. "Be real with me. Are you an alien?"
A laugh popped out of her. Cobra looked as pleased as she felt.
"No. Unless you are too. Maybe we both are." She ran her thumb over the plastic lid again, gaze drifting toward the roses outside. "Why do you think I'm an alien?"
He leaned forward, his voice dropping a little. "Because you're gorgeous, you're a redhead, you don't swear, and you've never had alcohol before. Either you were raised in a cave, or you're from outer space."
Start the other books in The Breaking Series! (All are interconnected standalones; you can read them in any order):
BREAKING THE RULES: http://mybook.to/Breaking-the-Rules
CHANGING THE GAME: http://mybook.to/changingthegame
MY LITTLE SECRET: http://mybook.to/mylittlesecret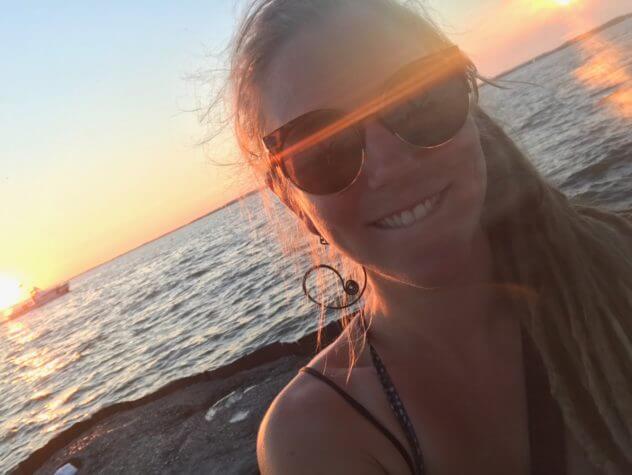 Author Bio
Ember Leigh has been writing erotic romance novels since she was far too young. A native of northern Ohio, she currently resides near Lake Erie with her Argentinean husband, where they run an Argentinian-American food truck. In addition to romance novels, Ember also writes travel memoirs and occasionally updates a couple of blogs. In her free time, she practices Ashtanga yoga, hops around the world, and eats lots of vegetables.
Website: http://www.emberleighromance.com
Facebook: https://www.facebook.com/emberleighauthor/
Instagram: http://www.instagram.com/emberleighauthor
Twitter: http://www.twitter.com/emberleighauth
Newsletter: http://eepurl.com/c7aJPn
Join her reader's group, Ember's Blossoms, here: https://www.facebook.com/groups/1920735041337207/