6 min read
Today I am pleased as Pumpkin Punch to have Katey Hawthorne, author of the newly released Witchy Boys: Sexy Stories for Dark Nights as a guest. Katey, thank you so much for stopping by!
****
Thanks so much for inviting me over, Roxanne! In theory, I'm here to talk about my new release, a small anthology of novelettes called WITCHY BOYS: SEXY STORIES FOR DARK NIGHTS. But I'm gonna go only slightly off topic. What can I say.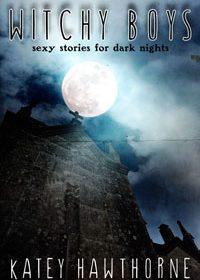 Today on my blog, Roxanne has a great post about Halloween facts and traditions. Halloween is my absolute favorite holiday, so I have loads of personal traditions, myself… but here's the sad bit: I'm out of the country right now, so I don't get to celebrate. (Okay it's not THAT sad, I'm in India for Diwali, which is pretty much the coolest, but you see my point.) So I'm using this post and blog tour as my Halloween celebration this year!
In that spirit, here are a few of my personal favorite things to do on Halloween.
-Be The Cool House. The coolest decorations, the best candy (we make up bags!), the most impressed with all the costumes. I've never cared about being cool in my life, but making sure trick or treaters have the best time on our doorstep is the one time it matters.
-Watch loads of creepy movies. In particular, we're partial to Dracula (in most of its incarnations) at my house. Always gotta do it with red wine. Obvs. But it also works with The Lost Boys, Interview With the Vampire, The Conjuring, or really bad MST3K episodes about zombie movies.
-Candy Corn. Because it's the best, I don't care what the haters say.
-Leaving something out for the spirits. This is an old one, dating back to when people fully expected their dead relatives to show up for dinner or just be wandering around at random. But I like to do it just because. A little dish with some bread or cake in it is great. Yeah, I know, the raccoons probably eat it. It's just the spirit of the thing, isn't it?
-The perfect costume. Now, I don't necessarily do this unless I'm going to a party somewhere, but when I do costumes, I like to get pretty into it. This year, I don't need one, but my most recent fave was a flapper and a gangster with my husband. A night where you can be whatever? We all need that, sometimes.
How about you? Drop a comment down there to let me know, and get entered into the rafflecopter giveaway!
Witchy Boys Blog Tour
October 17-31
October 17 – A.J. Llwellyn
October 18 – Scattered Thoughts and Rogue Words
October 19 – The Novel Approach
October 20 – MM Good Book Reviews
October 21 – Love Bytes
October 24 – P.G. Forte
October 25 – Joyfully Jay
October 26 – Prism Book Alliance
October 27 – Roxanne D. Howard
October 28 – Diverse Reader
October 28 – Gay Guy Reading (and Friends)
October 31 – Jenna Rose
WITCHY BOYS: Sexy Stories for Dark Nights
Author: Katey Hawthorne
Publisher: Indie 
Publication Date: October 18, 2016
Word Count: 20,000
Just in time for Halloween! Two novelettes about men with magic—and the occasional demon. 
"Blood Magic and the Mini Zombie Apocalypse"
Griff has a bad habit of getting talked into black magic he shouldn't be using—but this time it's even worse. His ex is bent on revenge in the form of a mini zombie apocalypse, and the only person who can help Griff is a hottie white magic practitioner named Blythe. The catch: one of Griff's spells gone wrong left Blythe with a haunted apartment a year ago, and Blythe isn't over it.
Still, Blythe agrees to work with Griff. As they unravel the ugly blood, sex, and death magic, they also discover surprising things about each other. Hopefully, it's enough for the ultimate trust they'll need to defeat a lot of zombies and a crazed witch, or their town will end up covered in corpses.
"Præsidium"
Six years ago, Thackeray agreed to let a demon haunt him in exchange for help hunting other demons. It's a lonely life, but worth it to be the best demon hunter possible — to save families from the kind of evil that ruined his own childhood.
This Hallowe'en, Thackeray's dealing with an upstart coven. A powerful, pretty witch named Matt defects to help Thackeray stop their scheme to invite god-knows-what from the other side. 
Demons are much easier to fight than the urges Matt's flirting inspires. But Thackeray can't hook up with a demon watching over his shoulder… can he?
Buy Links:
Author Bio:
Katey Hawthorne is an avid reader and writer of superpowered and paranormal romance, even though the only degree she holds is in the history of art. (Or, possibly, because the only degree she holds is in the history of art.) Originally from the Appalachian foothills of West Virginia, she currently lives in Columbus, Ohio with her family, two cats, and one very large puppy. In her spare time she enjoys travel, comic books, B-movies, loud music, video games, Epiphones, and Bushmills. Her favorite causes include animal rescue and bisexual representation in media. She is an unashamed fangirl and collects nerdy tattoos like she's trying to prove it.
Find Katey at…
Kateyhawthorne.com blog and site
And sign up for a once-a-month newsletter, Katey Hawthorne's Somethingorothers
Blog Tour Giveaway: