2 min read
Ever feel like this?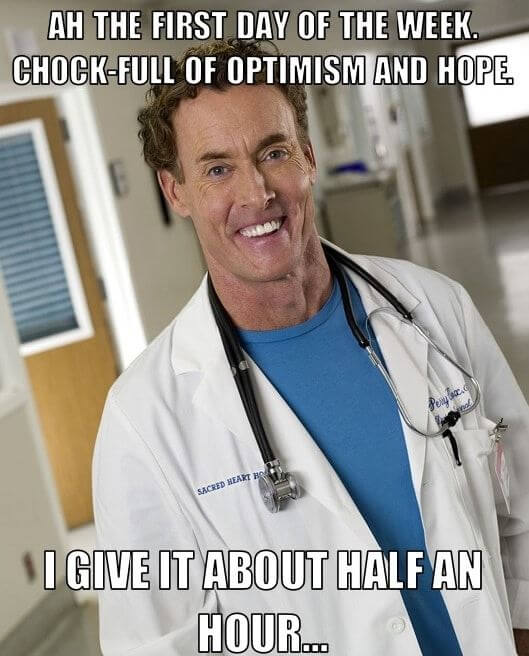 I know I sure have!
So, with this IR contemporary romance I'm writing at the moment, I've been watching a lot of the TV show "Scrubs" on Netflix for inspiration. Aside from relating to my main character being a nurse who wants to be a surgeon, the show is full of philosophical gems hidden well beneath comic veneer. It's been hilarious to go through the seasons I watched so long ago. I forgot how much I loved "Scrubs."
What I've taken away from watching it is that no matter what we're all experiencing or going through from work to life to anything, is finding moments of joy and positive mental outlook when times are stressful – that ONE thing that makes us smile and be thankful for what we have. Happiness is a choice, and we can worry away the week, or laugh it off. Just food for thought!
Man, I need to get better at this blogging thing. When I'm writing novels, I'm usually in "the zone" and don't have time for much else when I'm focusing, but I'll try to blog more regularly. Here's a playlist for "Finding a Pulse," the new novel I'm writing. Also, below is one of the main songs I've been listening to by a British band called the Shires. This song is like the novel's mantra. Enjoy!
"Brave" – The Shires
"Because We Can" – Bon Jovi
"Keep Your Head Up" – Andy Grammar
"Home" – Phillip Phillips
"For Once in my Life" – Michael Buble
"In the Still of the Night" – Boyz II Men
"All is Full of Love" – Bjork
"No Surprise" – Daughtry
"It's Alright" – Seal
"Say Hey (I love you)" – Michael Franti and Spearhead
-"Angel" – Robbie Williams
"I'll Be There For You" – Bon Jovi
"Just give me a reason" – Pink ft. Nate Ruess
"I won't give up" –Jason Mraz
https://www.youtube.com/watch?v=GgPt5r1D79s