34 min read
Did you miss out on the Costa Mesa series? Not to worry; now you can own all three books for the price of one! Loose id is packaging all three books into one low-priced e-bundle! It's currently reduced, so get it while it's hot!
Roxanne D. Howard's holiday trilogy, the Costa Mesa series, is now available in a convenient e-boxed set!
Batten Down the Hatches

Piper Goldhirsch is the head reporter for Business Buster, an Undercover Boss-esque tabloid exposé show. While it was never her dream job, it pays the bills. When she attends a masked Halloween Ball and meets a sexy costumed pirate captain who calls himself Captain Jack, what starts out as a few kind words and exchanged kisses in the billiards room quickly becomes the greatest sex of her life, leaving her haunted by the powerful magic between them. Piper's not sure what she wants or even if she'll ever see her mysterious stranger again… until he becomes her job's next target.
Captain Jack Spencer runs his own brand new whale watching company, Ahoy, Matey, on the outskirts of Costa Mesa and Balboa Island. He's so good at it he's garnered the attention of rival companies. Piper is called in by Jack's nemesis to go undercover on an ocean tour to expose him, and reveal the alleged illegal tricks that have made his business so successful in a short amount of time. But when Piper realizes he's the same sexy man she slept with at the Halloween Ball, she's emotionally conflicted. Plus, Jack has been unable to forget the woman from Halloween, so when they do meet up again, they can't keep their hands off each other.
It's time to Batten Down the Hatches, because the waves are about to get wild!
Toe the Line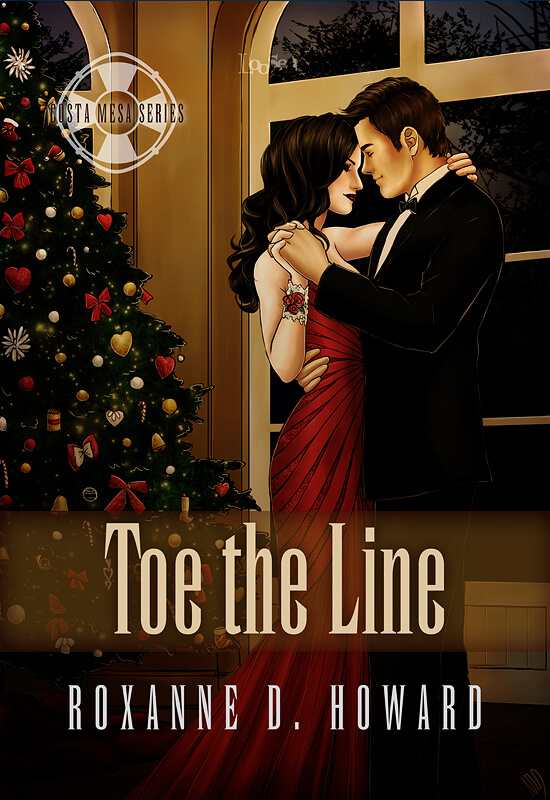 After two months apart from Jack and working in desolate, war-torn Syria, Piper is on her way home to California for Hanukkah. The tides have turned dramatically, and she is now an established journalist with Channel Four News. Though she's proud of where she's at with her career, her heart aches for the painful way she left things with Jack.
Jack is determined to make things right with Piper, no matter what. When he receives a cash settlement from Business Buster, he uses his newfound wealth to whisk her away on his new yacht for a romantic getaway to Catalina Island. In no time at all, the two lovers reignite the fiery blaze between them, and their steamy passion rekindles out on the open ocean. But when a dangerous, hidden stowaway hijacks the yacht and holds them both captive, Piper and Jack find themselves at his mercy. With nowhere to run, they must work together if they want to escape alive.
This holiday season, it's time to Toe the Line.
Overboard
At the end of their romantic holiday getaway, Piper is one loved-up woman. She can't get enough of the sizzling passion she's found with Jack after all they've been through. The two lovers board Jack's yacht and leave the idyllic hamlet of Catalina Island, California to head home for New Year's Eve, and it seems nothing could be more perfect… until the day turns on a dime, and the waters rise. When Jack receives a radio distress call from an old friend out on the open ocean, their initial efforts to free a trapped, massive blue whale soon becomes a dangerous struggle for life or death – their own.
It's a New Year's Eve fraught with harrowing danger, narrow escapes, daring rescue missions, and heart-pounding passion. Top it off with one shocking discovery, and suddenly the boat isn't all that's rocking. With the weight of the knowledge pressing down upon Piper, can their love survive? This New Year's Eve, get ready for some fireworks, because it's all going Overboard.
Excerpts:
Batten Down the Hatches
"Help me down?"
He ignored the hand, scooped her up, and lifted her bridal-style off the pool table. He helped her find her feet. She smoothed down her costume. "My, my. Chivalrous and everything. Thank you. I'm glad we waited to have sex, Jack. Really."
He laughed. "Yeah, I hope it was worth the time."
"Oh, it was."
She crinkled her nose up at him, and he wanted to gobble her up. "You're a funny one, aren't you?"
"So they tell me." She looked around the floor. "Where are my panties?"
In my trouser pocket, Legs, but you're not getting them back. He blinked a little too innocently. "I have no idea." Her surly smirk told him she'd sooner believe in the Headless Horseman.
"Right. Well, Captain, that was one hell of a pleasure cruise. I'll have to hop aboard some other time." She smoothed down her hair and looked around.
Ouch. He stepped forward. "Piper, listen, I'm not some sleazy—"
She patted his shoulder—patted it, as if he were her puppy. Her eyes were soft, but her tone meant business.
"No. It was a nice ride. Amazing. The best I've ever had, actually. But let's not kid ourselves or pretend this is more than an incredible quickie, okay? A nice memory we'll both hold onto and never forget, remember?"
He frowned. He didn't want it to end like this. Hell, he didn't want it to end. But it was too late, because with a gentle kiss on the lips and a whispered good-bye, she slipped out of the room.
* * * *
When Piper walked out after the best sex of her life, she thought she'd feel empowered at having taken control of the situation. She was by all rights an alpha female, and that's how she liked it. But a wave of regret hit her as she slid into the seat in the back of the company limo. Had it been a mistake? What if she never saw him again? Her mom always said a person's soul was in their eyes, and he had rich, compassionate eyes, like a deep sea. She leaned against the limo headrest and folded her arms, the feel of him buried inside her so fresh they might as well still be fucking. And he'd felt good, phenomenal, like he'd been designed to be a part of her.
She wrestled with her thoughts on the way back to her condo. She almost signaled the driver to turn around but never did. It turned out to be the biggest regret of her life.
* * * *
A knock rattled her dressing-room door.
"Goldhirsch! Get in the conference room," Larry Gunn barked.
Piper removed her crossed ankles from the top of her vanity tabletop and glanced at the door, annoyed. She'd been focused on an article in Psychology Today about the pros and cons of one-night stands. Try as she might, she couldn't get Captain Jack out of her head. Hell, she could still smell him, a whiff of sheer masculinity and sex. Sometimes, it felt like he held her close, like he was a phantom lover.
"Why?" she called out.
"I've got one for you."
She stood up and took her jacket off the back of her chair. "Last guy said that to me got his nuts kicked in. Couldn't walk for weeks." She opened the door. Larry worked his gum like a cow chewing cud and looked bored.
"Yeah, look at me. I'm petrified. Get in the conference room, kid. This one should be good."
"Weeks," she hissed as she passed him.
"Yeah, yeah."
Whatever it was must be serious. They had Tim Chidester, Business Buster's private investigator they brought in for the heavier pieces, already seated, and another middle-aged man she didn't know was also in attendance. She considered the stranger. He wore khaki shorts and a dark-blue polo shirt. She put him at somewhere in his midforties, with a red, receding hairline and thick glasses.
"Piper Goldhirsch, this is Peter Newman, owner of Newman Whale Watching Tours on Balboa Island."
She shook the man's hand across the table. "Nice to meet you, Peter."
"Same here."
She took a seat across from him and Tim and crossed her legs. "All right, let's hear it." Tim leaned forward and rubbed his hands together with glee, as if someone had handed him the world's best Christmas present.
"So, to cut to the chase, Peter here says another tour company is stacking the deck."
"That's not what I said," Peter snarled.
Piper leaned back and crossed her arms. "All right, why don't you tell me what you said, then," she said neutrally. The guy obviously had a stick up his ass about something.
"Okay. Well, on Balboa Island, there's about eight of us whale-watching companies. We all have guidelines and laws we have to abide by, you know?"
Piper nodded, not sure where he was going.
"So, our job is to take people out and see as much wildlife in the ocean as we can within the limits of where we go. On a normal day, people will see a pod or two of dolphins, a group of sea lions, and sometimes if the gods smile on us, a whale. Ahoy, Matey is a new company. They started up less than a year ago by this young marine biology flunky."
Spittle flew out of Peter's lips as he talked about the man. Did this come down to some sort of personal vendetta? She steered clear of exposé pieces like that, as they were usually masked cat fights.
"Within eight months, the company went from obscurity on the bottom rung to land the best reviews and the most bookings on the island."
Piper frowned. "So, how is it you think he's corrupt? What if he's just a good businessman?"
Peter rubbed his forehead and looked pissed. "Because out there, on the water, it's not about business politics. It's how capable you are as a boat captain. They claim they spot whales every single day, on every single outing, which is unheard of. Look, whales, they migrate, okay? You're lucky to spot one or two a day, on a good day. This guy's claimed to see blues, minks, and humpbacks, which are an endangered species and rarely come inland. He's luring them, mark my word. My bet is he's got buckets of krill he uses—"
Piper furrowed her eyebrows, confused. "What's krill? I know next to nothing about marine biology."
"Shrimplike plankton."
Larry supplied her with the info as Tim slid an 8×10 glossy photo of what looked like cocktail shrimp across the table at her.
"This is krill. Peter thinks the Ahoy, Matey captain has his first and second mates pour buckets of these guys into the water while the boat's in motion to attract more whales and up the stakes. The California Whale Watching Guidelines state it's illegal to interfere, feed, or harass marine mammals. If this guy does, or he has a way to get the whales up close to spotlight his business, he could be sued for animal endangerment, and it goes against countless state and federal laws."
"Yes, exactly," Peter squeaked. "Exactly. Thank you."
Piper curled her finger around her chin and contemplated what she'd heard. "Do you have any evidence of this?"
"No, but I've been around. Listen, I've been a tour guide on Balboa Island for over fifteen years now. No way is this guy that good. If you go out there and record him like you do on your shows, I bet you'll get something."
Larry put his hand on the table. "Peter, would you step out of the room for a few minutes? We need to discuss this with Piper. There's an espresso machine down the hall and some pastries, if you want to help yourself."
Peter looked between them. "Sure."
He stood and leered at Piper. She inwardly cringed as he checked her out.
"I love your show, Miss Goldhirsch. I've seen every episode."
"Thank you," she said thinly.
When he was gone, she looked at Tim across the table. "I don't think there's enough of a story here, and I'm getting weird vibes off this guy. This is complete speculation on his part and what amounts to legal hearsay. Most people at least have texts, videos, an audio recording, something. This guy has no evidence other than an obvious massive chip on his shoulder."
Tim held up a finger with a sharklike grin. "I don't disagree, Piper, but hear me out. I did some digging, and there's more to the Ahoy, Matey captain than meets the eye."
He slid a closed manila folder across the table to her. She opened it, and Larry leaned over her shoulder to peer at it.
"Do you mind?" she sassed. She often had to assert the upper hand with Larry. Thank God for her take-no-prisoners Jewish backbone. "Or does my personal space mean nothing?"
Larry put his hands up and backed off.
"Thank you." She looked down at a black-and-white photo, a side profile of a very handsome guy in an open-throated denim shirt. He leaned over a metal rail and stared out at the ocean with a soulful look about him. He appeared to be around her age in his midthirties, clean shaven with a strong jawline, straight nose, and short, thick brown hair tousled from the wind. "He's cute."
"That's Captain Jack," said Tim.
Piper's imagination went into overdrive as memories of last night crashed over her, the way he'd pounded into her and caressed her. She stared hard at the photo. Was it him? The side profile made it hard to tell. "If you start singing 'The Princess Pat,' I might have to join in." Her voice shook as she tried to decipher from the features if it could be him. The crooked, sexy smile did look familiar. Very familiar. Oh, shit.
Copyright © Roxanne D. Howard
Toe the Line
Hanukkah was always an emotional time of year for anyone. This year especially, after meeting Jack and getting a taste of the passion they could have together, then losing it—it had made a huge impact on her life. Still, this was the time of year for family, reconciliation, miracles, and love. Maybe there was still a chance.
She thought of Amira, a little girl who'd captured her heart. Amira liked to draw and would often give Piper crayon pictures she'd drawn of happier thoughts with green grass, blue skies, trees, and stick-figure people. Amira had found a home before Piper left. A physician at the local hospital and his wife had adopted her, which was such a relief to Piper to know she'd be safe and loved.
Piper had never quite grasped how lucky she was to have been born in the United States. Her grandma Yetta didn't talk about the Holocaust very often. She'd always said she preferred to focus on the beautiful elements in life rather than the uglier times. But to know what life was like in a war zone now gave her a more profound respect than she'd ever had before for Yetta.
Piper's close friends, Stefan Delgado and his husband Lance, had kept an eye on her condo for her while she'd been overseas. When the shuttle dropped her off in front of the complex, she unlocked the front door and stepped inside for the first time in two months. It threw her off guard with how well kept it appeared. With a pang, she remembered the cleaning spree she'd gone on right around the time Jack had ripped into her. Afterward, she'd gone to the studio to tell the truth on air and then had come home and blitzed the hell out of the place to quell her shattered nerves.
She walked into the kitchen area, where Stefan and Lance had left a sticky note on the fridge: Stocked you up on a few essentials. Welcome back, P!
She smiled and shook her head. "You guys." She'd missed their zesty presence in her life. In the fridge was a gallon of cold milk, fresh fruit and vegetables, and kosher food. She retrieved a glass from the cupboard and poured some water.
Once the brunch was over tomorrow, she could relax and take some well-needed time to get her personal life sorted out. She slipped out of her shoes and changed into a soft lacy nightgown from her closet. It was the first sexy attire she'd worn since she left. She rubbed her favorite scented lotion into her hands and savored the sweet floral scent she'd missed. What would Jack say if she went to see him? It was the holiday season, after all. Even if he still resented her, perhaps they could at least mend fences?
One thing was certain, though—her heart needed to heal and move forward.
* * * *
Hakeem had mentioned in her initial interview over the phone that one perk to her job at Channel Four was the catering. As she'd missed out on it while over in Syria, she looked forward to seeing how good the food was. She and her taste buds weren't disappointed. Whether it was served in the studio or at special off-site locations, like this holiday awards-ceremony brunch, the food was high quality. Because of the diversified staff members, there was kosher food. She didn't always eat kosher, but she liked to honor her family's tradition and heritage as often as she could.
Piper sat down at a table with her fellow anchors, who greeted her with hugs and praise for her time in Syria. Hakeem sat next to her and introduced his wife, Nadia, a beautiful woman with wide, dark eyes. She wore a pretty hijab. Nadia had an earthy, warm kindness about her.
No sooner had she dug into her breakfast than they surprised her by calling her up to the podium. She wiped her lips with a napkin and adjusted her necklace.
"What is this?" she asked Hakeem.
He shrugged in his sage-like way, though his dark eyes sparkled as he and Nadia watched her stand. She walked to the podium, where Richard Johnson, the Channel Four news director, stood and beamed at her. She kept her head high, as her mom always told her.
Chin up, my girl. Always chin up.
She'd put on a pair of black pants and a white wraparound blouse with a nice Empire waist for the occasion. They presented her with a beautifully crafted glass award for Outstanding Accomplishment in Journalism. Her hands didn't shake when she took the award, but despite her confidence, tears welled up. A year ago, she would have considered this a pipe dream. Richard stood aside and indicated she should say a few words.
Piper took a deep breath and moved toward the microphone. She cleared her throat and looked up. "Thank you. I—"
The first person she saw when she looked up was Jack Spencer. He was leaning against the wall on the other side of the room wearing dark jeans, a dark-blue T-shirt, and a black sports jacket. Time froze, and so did she as she stared at him. His face beamed with pride, and it hit her right in the heart. Piper blinked, and a few tears escaped. Maybe he'd come to make amends?
She looked around at the audience of her peers, who appeared to notice the exchange. "My time in Syria taught me about what it means to be grateful for what we have here. Thank you so much for this award. I'm grateful to my fellow anchors, Hakeem Patel and Melinda Schaffer, who were my home front throughout the whole experience. This award means a lot to me, more than any of you could ever know. I hope our segments we did in Syria have stoked enough awareness about the crisis with the refugees. Not everyone will always agree about a decision, but when it involves children, I feel like we have an obligation to do our utmost to help. Thank you."
She stepped away to applause. But instead of going back to her table, she kept right on walking. Straight toward Jack.
* * * *
Before Piper made it two feet in front of Jack, he seized her hand and led her out of the banquet hall. He half expected her to slap him, but the fact that she hadn't so far was a good sign. Jack found a secluded hallway area and stopped. He let go of her hand and watched her.
Piper's mouth hung open. She assessed him with her dark eyes and then put a hand on her hip.
"Jack, why are you here?"
He quirked an eyebrow "Aw, come on now, Legs. I thought it'd be pretty damn obvious. I'm here to whisk you away."
She blinked in alarm. He knew he was pressing his luck, but the best defense was sometimes a good offense.
"What! What do you mean? We haven't even been in touch. You never responded to my e-mail."
He frowned. "What e-mail? I sent you an e-mail."
"No, you didn't. I sent you an e-mail, a few days after I got to Syria. You never responded."
"Piper, I never got it! I sent you an e-mail the same day Hakeem gave me your address. You never responded to mine."
"Well, I never got yours, did I?" She blinked furiously.
He drew closer to her, cautious as a lion tamer. "Okay, so apparently e-mail sucks. How about we set that aside and chalk it up to miscommunication? Let's give it another shot."
Copyright © Roxanne D. Howard
Overboard
They cleaned up, and she moved to a nearby sofa and flipped over onto her front while Jack retrieved their discarded clothes. He set hers down on a small table nearby. She rested her head on her arms over a cushion as she watched him pull on his shirt. The delineations of his shoulder muscles shifted, illuminated by the golden streaks from the skylight. She sighed and basked in the warmth against her bare back. He kissed her forehead, took a sip of the water, and handed her the glass. He went to restart the boat.
Before Jack had entered her life, she'd never been out on the ocean before other than to walk along a shoreline or wade in the shallow surf. But the sound of the seagulls and musical tempo of the waves gave her comfort. The ocean had a primal sense as ancient as the earth itself. She loved the pleasant, hypnotic sensation of being adrift after their sex.
"Make sure you don't fall asleep over there," he called. "You might get a sunburn."
She tipped the captain's hat up so she could see him and smiled against the pillow. "After what we just did, I'll be lucky if I can peel myself off of this anytime soon. Mmm, this is so comfortable." She bent her knee, wriggled into the sofa, and lifted her backside.
"You keep it up over there, and I'm going to come join you," he growled. "Then that sensational ass will be really red."
She sat up and reached for her bra. Enough teasing. "As much as I love that idea, I am a little hungry."
"There are those sandwiches we bought at the market in the small fridge and some food in the pantry."
"Great. I'll rustle something up. Would you like a plate?"
"Sure. I wouldn't say no to a chocolate either."
"Oh, good call." She got dressed and went down the stairs to the stateroom. She'd put the box of chocolates he'd gotten her back in the nightstand drawer. There were still some rosehip petals scattered prettily around the bed, and some long-stemmed bouquets dotted the room in secured vases. Jack had gone out to check the yacht during their time in Catalina and had watered the surrounding roses while he was at it. Most of the petals were open, and the sweet fragrance permeated the room. She retrieved the chocolate box and headed back upstairs.
JACK SET THE yacht to coast and joined Piper at the bar for a light lunch. After their meal, they fed each other chocolates, and he took a bit of liberty because he could. He rubbed her inner thigh as she licked around the edge of her chocolate and bit into it, her large, dark eyes shining.
"Can we just stay like this? Feasting on chocolates as we sail across the Pacific? Of course, I'd have to join an oceanic Weight Watchers at some point, but—"
He grinned and trailed his finger along her thigh. "If you like."
He'd just leaned in to kiss her when a horn blared in the distance. They parted and looked in the direction of the sound. A smaller yacht sailed toward them about half a mile away.
* * * *
Piper stood. "Do they need help?"
Jack walked to the helm and pulled out a pair of binoculars from a drawer. "No. There's a distress signal they'd use if they were in danger. That might just be a hello. Why don't we respond in kind?" He tooted the horn twice. Hello. Yes, we see you.
"Can you see what they look like?"
The view from the binoculars caught two blurred images on the deck of the small yacht. "Not yet. I can just see their figures. Might be a man and a woman. They're coming closer. Wait, their image is clearer." He could make out a tall sandy-brown-haired man and a blonde woman with shoulder-length hair. The couple waved.
"Do you know them?" Piper asked.
Jack zoomed in on their faces, then chortled. "I don't believe it." The world sure was a small place. He waved back and leaned down to the helm to adjust his radio frequency to 6352.1.
Piper stayed glued to his side. "What are you doing? Who are they?"
"Mark Young. He's an old friend of mine from time I spent in Australia many years ago. He's a pediatric neurologist and works with kids with epilepsy. It looks like his wife, Katrina, is with him. We have a set radio frequency we always communicated on. It's kind of a code among adrenaline junkie divers back in Sydney. I'll bet he remembers it." He thumbed the speaker button. People popped up in the most peculiar of places. "Butterfly Eyes to Crusty Old Timer. Butterfly Eyes to Crusty Old Timer. Come in, Crusty Old Timer."
The radio hissed, and a deep Australian voice spoke. "Nice to see you too, Jack. How the hell are you, mate? The boat's called the Rose Marie, by the way, you wanker."
"Duly noted. What are you doing out here? I thought you two were down under."
"I flew out here with the missus for a medical conference in San Francisco after Boxing Day. Our flight home got delayed, and I've got no appointments set up at the clinic until January fourth. Katrina and I rebooked our flight; thought we'd stay a while and go sailing, then head back after the New Year. I wondered if I might run into you out here. Looks like I did. Who's the sheila?"
Piper grinned at Jack. The corner of his mouth lifted. "This is my girlfriend, Piper Goldhirsch. We're on our way back from a holiday on Catalina." He still got a buzz every time it dawned on him Piper was, in fact, his woman.
"Jack Spencer on an actual holiday? With a steady girl? Now there is an anomaly. When I realized it was you, I thought you were headed out on a rescue mission for that poor whale."
Jack lowered his brow and met Piper's look, confused. "What are you talking about?"
"There's a blue whale. Just saw him. Big son of a bitch, about eighty feet long. He's caught in some crab-trap lines. It looks like he's been trapped for a while."
"Where?"
"About twenty nautical miles east of here, mate. He's floating upside down with his chin on the water."
"Upside down?"
"Yeah."
"That's a bad sign."
"I know. I tried to report it on the radio and get help, but they said NOAA has their hands full with an oil spill earlier today off the West Coast from an inbound rig, and it takes precedence over the whale, since it's a danger to all wildlife. And you're the only one from the Inland Nautical Society I know here. Good spot of luck we ran into you, eh?"
Mark's boat had come close enough to be able to make out the features of his good-natured face, now turned down in a frown. Jack stared at Mark across the water.
Piper put a hand on his arm. "Jack?"
The radio crackled. "I can almost hear that mind of yours working over there, Jack. You always did have a hero complex. Good to see it's still up and running. You think you and I could handle it? My foot's still on the mend from metatarsal surgery, so I can't go in the water right now. But you and I both know how long it takes to clean up an oil spill. The whale will either be dead or long gone if they ever do get out here, and either way, it bodes badly for him. Do you want to give it a go? See if we can free him, or at least take a look?"
Jack glanced at Piper. She nodded.
"I don't have to be at the broadcast until ten, Jack. We could go. I've never seen a blue whale before."
"Are you sure?"
"Yes."
He clicked the mic. "Okay. Yeah, we're in. Let's give it a shot. At least see how bad it is, and we'll go from there. Did the whale appear in distress?"
"No, but we stayed pretty far back. Didn't want to trouble him. When we came upon him, he didn't move, like he'd given up. Who the hell knows how long he's been out there? At first we wondered if he was dead, but we didn't see any sharks trying to feed off him, so we went in closer to check him out. He looked alive."
"All right. If you take us to where you saw it, we can follow you. Give it a good distance when we get there, though. Let's keep him nice and calm. We'll coast alongside you and come aboard."
"Sure thing, mate. Out."
Copyright © Roxanne D. Howard